Trondheim avoided wasting money on expensive overtime and part-time staff with AI-based staff planning solution
09.11.2022
Trondheim municipality, the capital of tech and knowledge in Norway, has always been a leader in innovation. It is home to many Norwegian tech unicorns like Signicat and Kahoot. It is also a beautiful city with colourful warehouses, cobbled streets, a magnificent cathedral and top foodie culture.
As the third-largest municipality in Norway, Trondheim municipality manages 5,000 staff in 200 healthcare units in the healthcare system. Due to the ageing population and the increased demand, one of the top priorities for the municipality is to be more efficient and provide better service quality.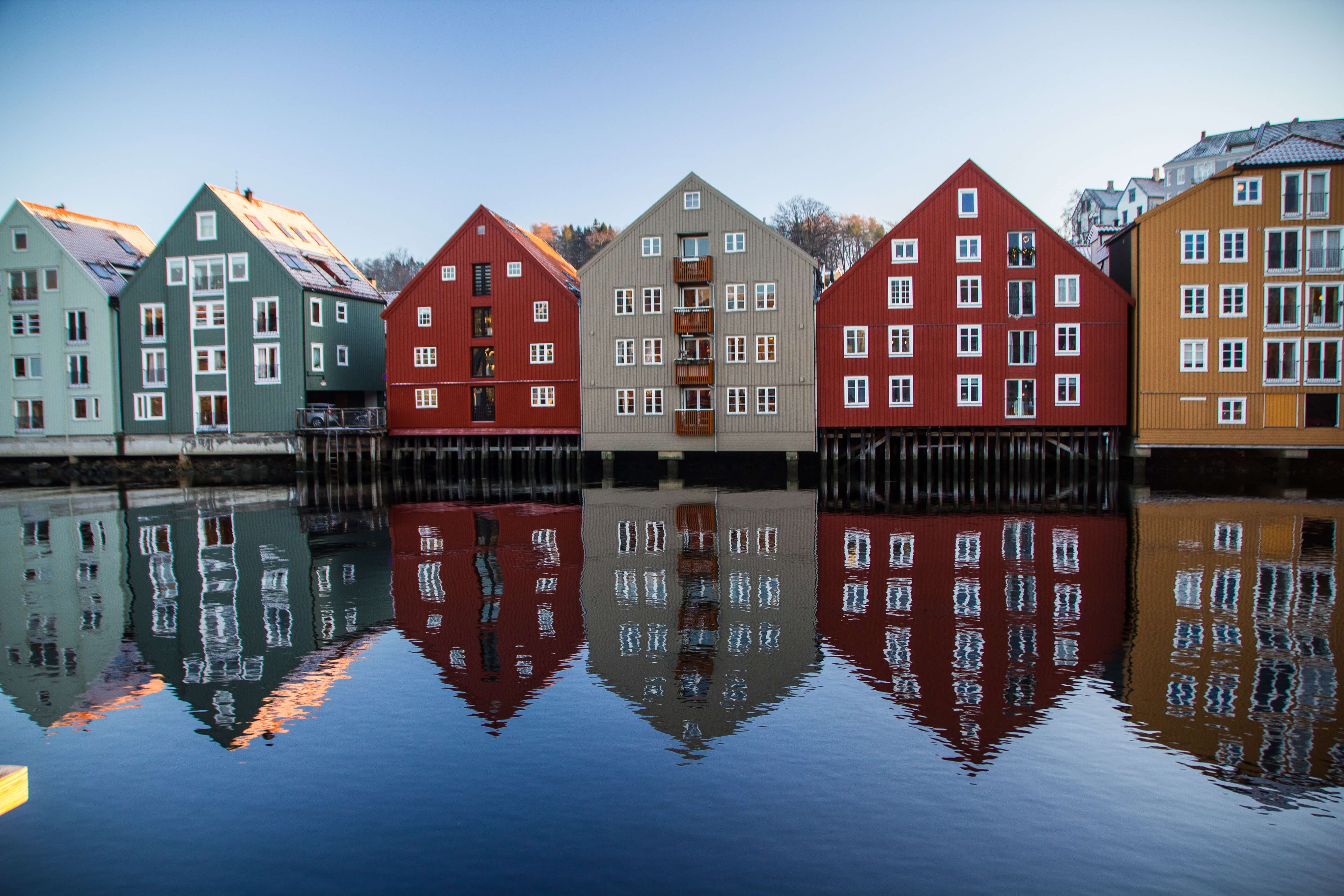 Trondheim - home to many famous Norwegian tech startups - via Unsplash
The challenges of breaking the vicious cycle of staff planning in healthcare
Inefficient and ineffective workforce planning processes always plague healthcare workforce planners. Often, the whole reporting and planning process costs them excessive time because there is a lot of back and forth between departments, navigating different methods of gathering data and delays in dealing with an organisation's hierarchy or bureaucracy. All of these might take several weeks or even months to generate reporting and planning.
However, the planning process is often non-optimal due to the lack of accurate forecasts about the sick-leave absence of staff. Most of the time it is done by rough estimates, repeating past practices and even guesswork. Having poor planning often leads to more people working overtime or more costly part-time staff, resulting in over-budget problems every year. Ineffective planning also triggers more burnout and sick leaves from the staff. That means service is dropping when we need it the most, patients are frustrated, and healthcare workers can do nothing to improve the situation. This results in stress mounting in every area of the organisation, which makes planning even more difficult again.
Given the organisation's size with 5,000 staff to manage, it's increasingly difficult for Trondheim to break this vicious cycle. Not only did they want to reduce the reliance on temporary workers, but Trondheim leaders also wanted to create a better healthcare environment for their staff and patients.
The solution
We provided Trondheim municipality with a comprehensive planning and prediction system in four steps:
Step 1: Collect

SynPlan collected all relevant data from internal and external sources, such as HR, financial, patient systems and weather data. All of these data were collected at the aggregate level, which means there is no risk of personal or identifiable data being captured.

Phase 2: Visualise

Using big data and data mining technologies to provide real-time data analysis about spent budgets, daily sick leaves and extra hires for managers. The data was then presented on a dashboard view to give leaders and planners a holistic view of the operation.

Phase 3: Build the prediction model

SynPlan tested, compared and developed AI/ML algorithms for predicting the number of sick-leave absences, such as time series analysis, deep learning algorithms, decision trees, gradient boosting and so on. We built 47 different prediction models for 47 different healthcare units including 36 BOA units and 11 home care units (original: Hjemmetjenester, and Helsehus units.)

Phase 4: Finalise the updated plan and take action

Finally, 3 units at Byåsen BOA started testing SynPlan to compare with the traditional process. With SynPlan, the planners saved time on reporting tasks while having a more optimal plan with the new prediction data.
Phase 5: Communicate the results
We communicated the results to different stakeholders at Trondheim municipality and worked on how to maximise the prediction results in real settings.
SynPlan has now been rolled out to all 200 healthcare units in the region.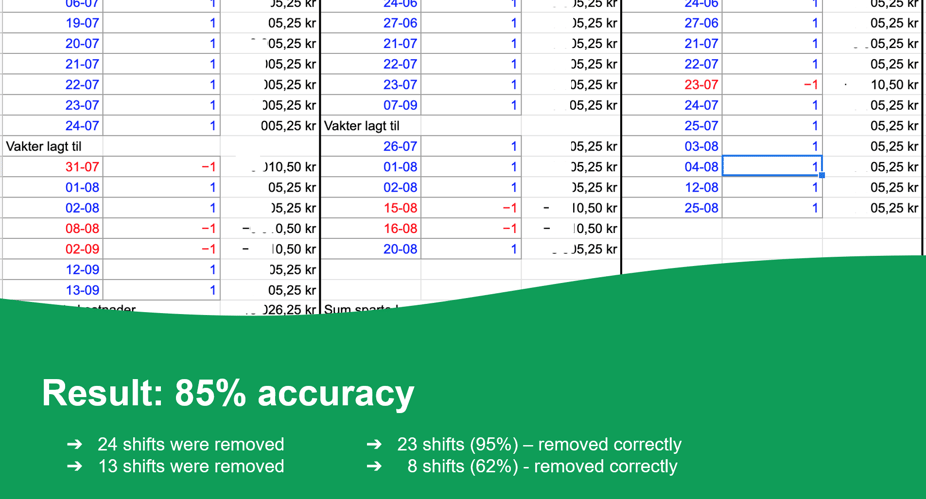 SynPlan provided 85% accuracy of prediction to help Trondheim planners plan more efficiently (Trondheim's report)
A saving of 6.7% of the total cost, more than 50% came from the reduction of temporary staff.
SynPlan can empower healthcare managers to plan their workforce more efficiently and more proactively, reducing unnecessary costs and at the same time increasing the quality of healthcare services.
The results from the 3 units at Byåsen BOA showed that if the new plan with prediction taken into account had been executed, the 3 units could have saved 6.7% of the total budget of 100 MNOK.
SynPlan showed a new efficient way to optimise the current reporting and planning process. Having the data presented on the SynPlan dashboard allows the leader to have a holistic view of their organisation, cutting 50% of their time getting and reporting data from different systems. Also, by incorporating the prediction of 12 months ahead of the sick-leave absence, both leaders, managers and planners can benefit from the prediction to have more optimal planning, which allows producing practical and effective sick-leave prediction models
Furthermore, the project showed that planning based on more predictable staffing needs helps reduce the need for substitutes and unskilled workers, improving both employee well-being and patient care.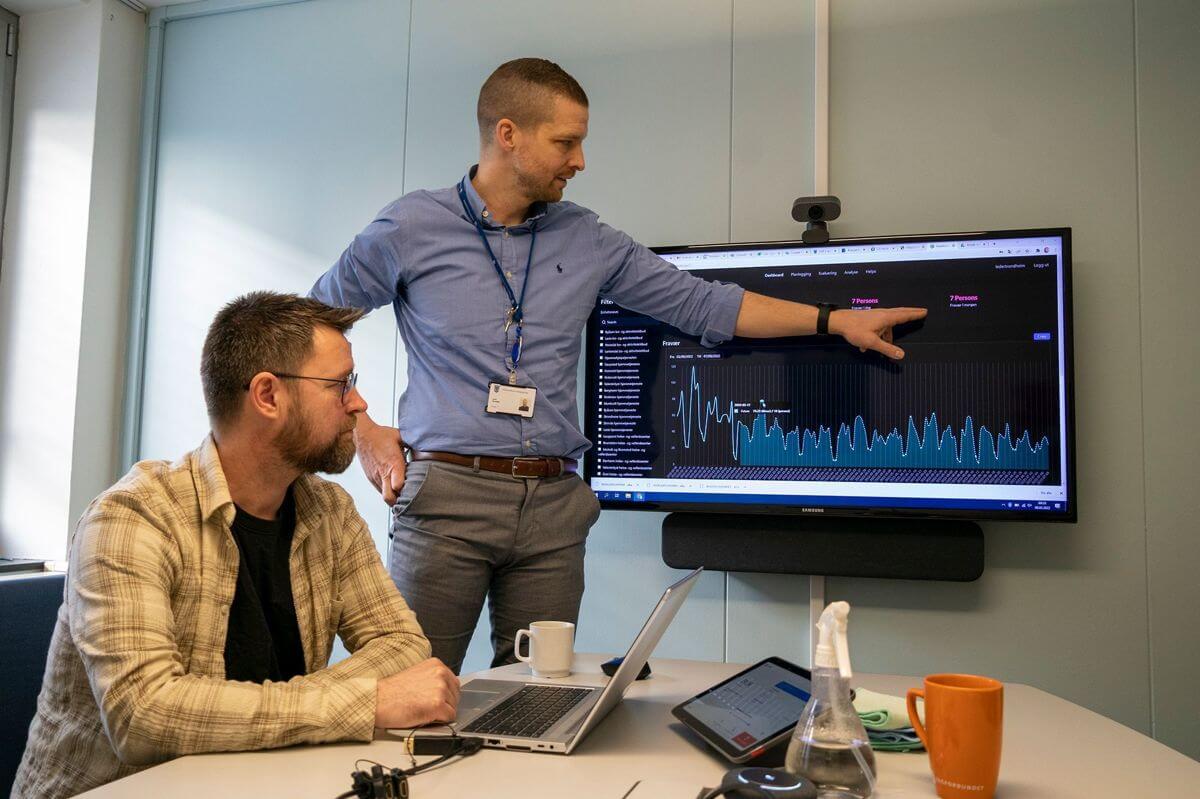 Staffing consultant Geir Skotheim (left) and CFO Lars Dyrdahl in the finance service in Trondheim municipality present the program that predicts sickness absence via Kommunal Rapport
"Using SynPlan in workforce planning can lead to more sustainable plans and better usage of resources"
That's what Lars Dyrdahl, CFO of the municipality, has proudly said. "Better planning also means easier staffing capacity management for planners, as well as less burden on health workers.", added he.
The ambitious leader of the region decided to take a further step to make the best possible use of SynPlan. Not only has he deployed the solution across 200 units within the municipality, but he also restructured the organisation to a central planning approach, which he believes will better take advantage of cutting-edge technology, driving the organisation's efficiency.
-----
Interested in what SynPlan can predict? Have a chat or request a demo with us!